Affordability and reliability have been the cornerstones of Main Street America Insurance's agribusiness division ever since day one in 1935. Originally created to find a comparable solution to high-priced property insurance, our agribusiness insurance package continues to deliver on that promise while deploying modern business solutions that are relevant today.
What is Included in Commercial Agribusiness Insurance Coverage?
---
With Main Street America Commercial Agribusiness insurance, you'll receive protection of your commercial structures, business property, machinery and more. We're committed to providing high quality service and coverages. When you work with us, you can expect:
Superior insurance solutions for grain warehousing, LPG distributors, animal feed manufacturing, fertilizer sales/distribution/application, oil/gas distributors and other cooperative-related business exposures exclusively through our network of independent insurance agents.
Small, streamlined agribusiness team that values personal relationships with the desire to know you and your business. Whether you need help with a claim, loss control question or underwriting issue, our Omaha-based group is just a phone call or email away.
Exemplary personal service, responsive claims handling, and innovative and comprehensive loss control products that set us apart – all backed by solid financial results.
Main Street America Insurance's comprehensive package of commercial agribusiness coverages include:
Commercial Property
Commercial General Liability
Commercial Auto
Commercial Crime
Commercial Inland Marine
Commercial Umbrella
States We Serve
(highlighted in dark blue)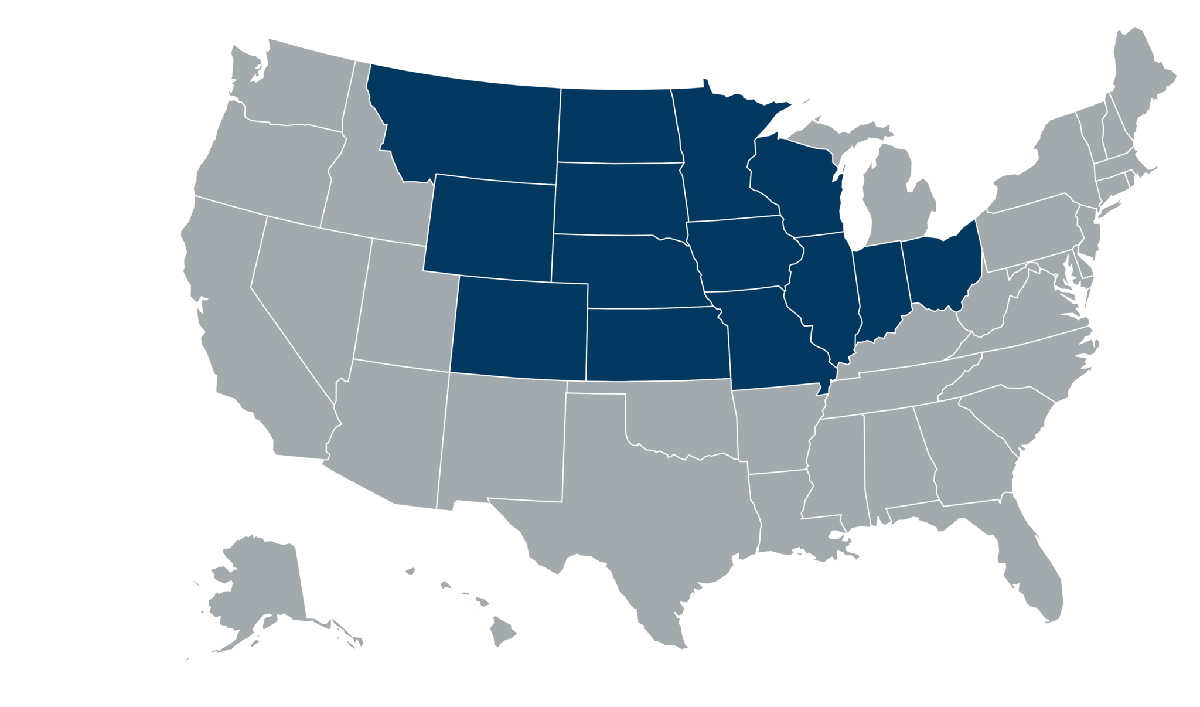 Additional Questions or Information:
---
---
3905 S. 148th Street, Suite 100
Omaha, NE 68144
Loss Control Center
Main Street America Insurance's loss control team is here to help you understand and achieve regulatory compliance. We will evaluate the existing and potential risks in your agriculture business, and provide specific recommendations that could help you better protect your people and property — ultimately increasing your opportunity for profit.
Main Street America Insurance offers the following specialties and services to help you prevent and control losses:
Agronomy
Propane
Transportation
Regulatory Compliance/Safety Training
Risk Surveys/Analysis
We're more than just an insurance company, we are your partner and are invested in your success.
The Partner Newsletter
Contact us to learn more about how you can partner with Main Street America's Agribusiness division.
Disclaimer: We neither agree nor intend to undertake on behalf of anyone else to provide for the health or safety of your premises, your employees, or the public. This remains your responsibility. Any perceived or real benefit derived by you or others from any service provided by our Loss Control personnel is coincidental. Our loss control services constitute neither a warranty, nor a determination, that you are in compliance with any law, rule, regulation, or recognized practice, and in no way implies conformance with any federal, state, or local law, regulation or statute.