We Build Relationships
Ownership, relationships, and service are the fabric that binds Main Street America Insurance and our employees. Since our founding in 1923, we have remained committed to demonstrating our core value of service through our many philanthropic efforts and to making a positive impact in the communities where our employees live and work. Our broad community outreach and corporate giving includes:
United Way
Main Street America Insurance remains a strong supporter of the annual nationwide United Way campaign. Each year, we donate nearly $100,000 to local United Way agencies (combined employee payroll deductions and company matches). Our local office fundraising events include bake sales and gift basket raffles. Our annual live auction at our Jacksonville, Fla., office features items donated by Main Street America Insurance's company officers.
NGM Charitable Foundation and Austin Mutual Foundation
Main Street America Insurance's NGM Charitable Foundation supports local nonprofit organizations across the United States focused on health and welfare, educational, cultural and civic needs. The Foundation achieves this by making both corporate contributions and matching employee donations to non-profit organizations throughout our markets.
The Austin Mutual Foundation, the nonprofit entity of our Austin Mutual Insurance Company, also donates to charitable causes throughout our Western Region states.
Annual Honorarium Program
In the spirit of holiday season giving, Main Street America Insurance's Honorarium Program provides much-needed funding from our NGM Charitable Foundation to a designated nonprofit organization in each of our eight office markets across the country.
Higher Education: University of North Florida Scholarship
Through the NGM Charitable Foundation, Main Street America Insurance has established a $25,000 scholarship program at the University of North Florida (UNF) to fund educational opportunities for students enrolled in the College of Education and Human Services. The scholarship program is one of the key components of our long-term relationship with the public university.
Primary and Secondary Education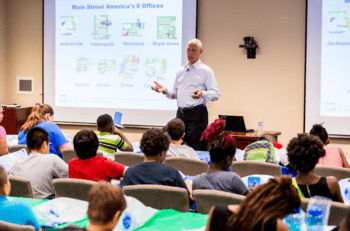 In partnership with UNF's College of Education and Human Services Urban Professional Development Schools program, Main Street America Insurance has supported Woodland Acres Elementary School in Duval County, Fla., since 2009. This partnership includes a dedicated team of our Jacksonville employees who volunteered to tutor students monthly at the public elementary school.
In addition to onsite tutoring, our year-round support of Woodland Acres also includes several other activities, including a fifth-grade field trip to our corporate headquarters, a summer reading book drive and book fair, and a back-to-school supplies campaign.
In Keene, N.H., we partner with Keene High School North Campus, a specialty school for "at-risk" youth.
Holiday Food and Toy Drives
Main Street America Insurance annually conducts year-end holiday season food and toy drives at our eight locations around the country. Each year, our employees donate approximately 1 ton of nonperishable goods – enough to feed hundreds of families in need – to eight local food banks. Our holiday toy drive collects several hundred toys to benefit Toys for Tots in six of our office markets. For our Keene and Maple Grove, Minn., offices, Project Share and Children's Hospital of Minnesota are the benefactors, respectively.
Employee Volunteer Activities
Main Street America Insurance annually provides each of our employees the opportunity of a volunteer day, which enables them to spend an entire workday (or two half days) volunteering at a local organization of their choosing, such as a nonprofit agency, school or religious organization. In Jacksonville, a team of our employees has used their volunteer day for the past several years to support Beaches Habitat for Humanity in building a townhome community for low-income families in Atlantic Beach, Fla.
In addition, a group of employees volunteers each year at the annual VSA (Very Special Arts) Festival, held at the Cummer Museum of Art & Gardens in Jacksonville. The VSA provides hands-on art experiences for more than 2,000 Northeast Florida children with disabilities.