5 years later, Frederick Johnson reflects on the shooting, how it changed his life and why love wins.
Pulse Shooting Victim and Main Street America Employee Frederick Johnson
FIVE YEARS LATER: LOVE WINS
June 12, 2016 became Frederick Johnson's unintentional "national" coming out as he was thrust into the spotlight as one of the shooting victims at the Pulse Nightclub in Orlando, Fl. Though some of his close friends knew he was gay, Frederick had not shared his true self with his family for fear of their rejection and worry that he would no longer be seen as a positive role model for his nieces and nephews. As news outlets from across the country began covering his story of courage, things began to change. During his journey back to mental and physical health, Fredrick was uplifted by the love he received from all around the country and the world. He saw people pull together and care for each other. Today, Frederick's lives as his true authentic self and is embraced by his family and a community that loves him for who he is. Frederick encourages people who would like to support others affected and injured by the tragedy that day to visit onePULSE Foundation.
---
The original article is featured below.
Pulse Shooting Victim and MSA Employee Frederick Johnson Thanks Coworkers for Well Wishes Following Horrific Event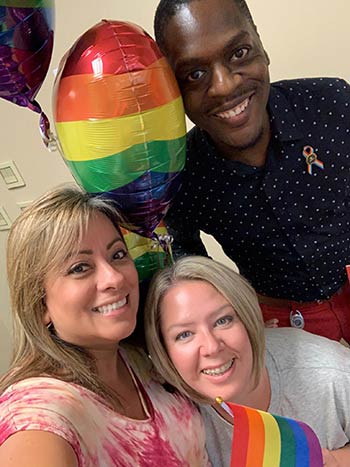 June 23, 2016 — Frederick Johnson, a surety development specialist at our Jacksonville office, says he feels shock and grief over the recent tragedy that occurred in Orlando when a gunman entered Pulse Nightclub and opened fire — killing 49 innocent victims and wounding 53.
In the wee hours of Sunday, June 12, Frederick was celebrating a friend's college graduation at the club when the event suddenly took an unimaginable turn. Frederick was shot twice while fleeing the building — once in the left arm and once in the right hip. He has undergone two surgeries on his left forearm to help repair the bones, as well as to have a skin graft to replace the injured tissue and nerves.
Frederick has a long road of recovery ahead of him but he is thankful for the well wishes he has received from friends and colleagues at MSA.
"(Surety sales, service and distribution director) Lisa Gall-Kight, (bond sales and service supervisor) Josh Bean, and my other bonds coworkers have texted and called me often — the whole group has been great. I've even had fellow MSA employees reach out to me on Facebook," Frederick said. "(CEO) Tom Van Berkel also called me right away to check on me and asked if I needed anything at all. Everyone has just been wonderful."
Frederick was discharged from the hospital in Orlando on June 20 and will be returning to Jacksonville soon to complete rehabilitiation. "I would say that I get emotional sparingly because I'm still numb to what happened," Frederick shared. "However, it's great to see so much love out there from all around the country and the world. People are pulling together and caring for each other and that's what it's all about — coming together in one accord."
Frederick joined MSA in December 2013. He is a Woodland Acres Elementary School tutor and was one of our presenters during the school's recent 5th grade field trip to our Jacksonville headquarters.
I can really be myself here. Frederick Johnson — shot twice at the… | by American Family Insurance | Jun, 2021 | Medium
Note: This article was published with the approval and consent of Frederick.