Identity Theft Protection & Your Risk
by Theresa Breunig-Silbernagel,
Head of Strategy, Transformation and Digital,
Main Street America Insurance •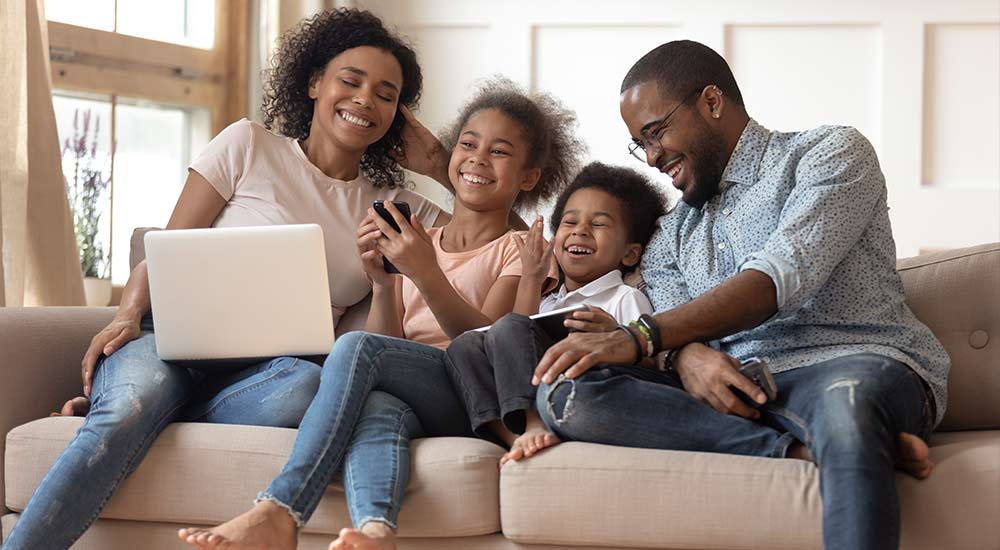 These days, everyone is at risk of identity fraud and data theft. In 2020 alone, there were more than 1.4 million identity theft reports filed with the Federal Trade Commission. Luckily, there are things you can do to better protect yourself from someone using your identity.
But, before you can start being proactive, you need to understand how identity theft happens, what it can do to your finances and how to secure your personal information against the most common cyber threats. 
How Does Identity Theft Happen?
Identity theft happens when someone with the intention to commit fraud accesses personal information, like your:
Social Security number
Birthdate
Debit PINs and other data
They may try to open a new credit card, use your information to apply for loans, or rack up charges, all in your name. 
One common identity fraud technique, called phishing, happens when you receive a message from someone trying to trick you into providing sensitive data like financial information or account passwords. Fraudsters can also access your data by stealing your mail or collecting personal information through fake websites and data breaches. 
Identity theft impacts 1 in 20 Americans every year and, unfortunately, many people don't realize anything is wrong until the damage is done. That's why it's important to understand what your risks are and know the identity theft protection available to you.
Common Identity Fraud Risks
Sometimes identity theft is out of our control, like when someone is involved in a data breach at a store or bank. However, there are a few common mistakes people make that put them at a greater risk of fraud, including:
Reusing or choosing unsafe passwords
Not securing credit cards and personal documents
Responding to scam emails or phone calls
Ignoring credit reports and bank statements
The good news is, getting into better identity protection habits is easy.
How to Reduce Your Risk of Identity Theft
From credit monitoring to fraud alerts, here are a few simple tips for protecting your identity:
Create Unique Passwords for Each Account
Make it as difficult as possible for criminals to access your online information. Create unique passwords with a combination of capital letters, numbers and symbols, and avoid reusing or sharing passwords. This makes the password itself more difficult to guess.
Check Your Credit Report Often
Every year, you can request a free credit report from each of the three nationwide credit reporting companies – Equifax, TransUnion and Experian. Regularly reviewing your credit report for any new accounts or large inquiries can help you spot suspicious activity and identity theft faster. Go to AnnualCreditReport.com to request yours and report any unusual activity as quickly as possible.
Review Your Credit Card and Bank Statements Regularly
Thanks to the ease of online shopping, fraudsters can access your credit or debit card numbers to make purchases and have orders shipped anywhere. Regularly reviewing your credit card and bank statements can help you identify theft faster and notify the bank of any fraudulent charges.
Don't Leave Mail Sitting in the Mailbox
One of the easiest ways for people to access your personal information is by intercepting your mail. If you receive paper credit card or bank account statements, make sure to pick up your mail deliveries as quickly and often as possible. You can also enroll in paperless billing and statements for even more security. 
Shred Old Documents with Sensitive Information 
Don't toss old documents in the trash. If you do, you increase the risk of identity thieves intercepting your sensitive information. Instead, buy a paper shredder or attend a shredding event in your area to destroy any personal data before throwing it away. 
Use a Secure Wi-Fi Network at All Times
Internet-enabled devices are not always the most secure technologies. Before you make an online purchase or enter personal details on a website, make sure you're connected to a secure Wi-Fi network. If you're out and about, use your mobile phone network instead of a public Wi-Fi connection. 
Only Make Purchases from Trusted Websites
One of the most common scams criminals run is tricking people into buying from a fake website designed to take your money or steal your credit card information. Before you make a purchase online, research the website. See what others have to say about their products, shipping times, return policies and customer service. If you see nothing but negative reviews, it may be time to shop somewhere else. 
Set Up Fraud Alerts
Many banks, credit card companies and credit monitoring services offer fraud alerts – text messages, emails and even smartphone notifications alerting you of potentially fraudulent transactions in order to help you identify and report the problem faster.
How to Know if Someone is Using Your Identity
The sooner you can find out and report someone using your identity, the easier it will be to stop and repair the damage. Luckily, there are a few tell-tale signs of identity fraud, including:
New or unauthorized accounts on your credit report: If you notice new lines of credit or accounts that you didn't authorize, someone may be using your identity
Bank account withdrawals you didn't make: If you see mysterious withdrawals from your bank account, someone likely has access to your personal information
Strange charges on your credit card: Review the charges your statements each month. If you see any items you didn't authorize, it could mean either your card information or your identity was stolen
Collections calls: If you start receiving calls for debts you don't owe or didn't authorize, check your credit report immediately and secure your personal information
Filing fraudulent tax returns: You may be at risk if you receive information about a tax return that has already been filed without your knowledge or approval
Receiving identity-related documents: You may be a victim of identity theft if you receive strange notifications about obtaining identification-related documents, such as health insurance cards or your state ID
If you notice any of these issues, notify the proper authority then call your insurance agent and see what resources you have through your home insurance policy. Do NOT provide personal information over the phone or online without confirming you are speaking with someone from the bank, credit card company or credit bureau. 
Extend Your Homeowners Insurance with Identity Theft Coverage
Protect yourself from identity theft with additional coverage on your homeowners policy. 
At Main Street America Insurance, you can extend your home insurance policy to include identity theft coverage. We'll be your advocate and help restore your identity, property and reputation as quickly as possible, so you can get back to living your life with added peace of mind.
Identity theft coverage through Main Street America Insurance will help pay for the services needed to take back and secure your personal information, to repay any lost income for time taken off work, and reimburse any expenses related to the theft.
Take the next step to protect yourself from identity fraud - talk to an independent agent today.