Does Insurance Cover a Cracked Windshield?
by Lisa Brannigan,
Regional Sales Director,
Main Street America Insurance •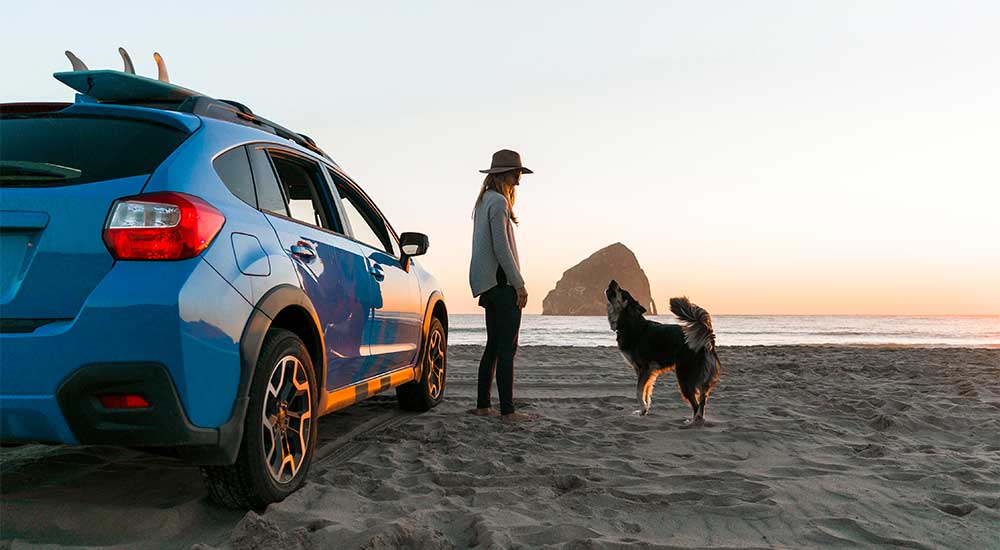 Debris, hail, temperature change or a car accident can all cause dings, chips or other damage to your car windshield. A chip or crack in your windshield can obstruct your view, interfere with wipers and defrost operations and get worse suddenly. A chipped windshield can turn into a cracked windshield that is beyond repair. Addressing a damaged windshield quickly is the best way to keep it from getting worse.
This type of windshield damage may be covered under different types of auto insurance policies depending on the source of the damage.
How Dangerous is a Cracked Windshield?
While a cracked windshield is not likely to shatter and cause injury, the damage can get worse – blocking your vision, interfering with safety features like lane assist, and leaving you more vulnerable if you ever were to get into an accident. Not to mention, in most cases, it's illegal to drive with a damaged windshield.
For these reasons, it's important to get your windshield repaired or replaced quickly after it's damaged and Main Street America's windshield damage coverage can help protect you from unexpected costs.
Car Insurance Coverage for Glass Damage
There are many types of insurance coverage that include protection for your windshield. Here are a couple of the most common options you'll see:
Collision Coverage would repair or replace a cracked windshield if it were broken in an accident. Whether the accident was your fault or the fault of the other driver, your collision coverage would help pay for the damages to your vehicle, including replacing a broken windshield.
Comprehensive Auto Insurance covers damage to your vehicle that is not caused by a collision. For example, when the vehicle in front of you kicks up a rock that cracks your windshield, if you're caught in a hailstorm or you hit a deer that causes extensive damage to the front end of your car, your Main Street America comprehensive auto policy has you covered.
Do You Pay a Deductible to Replace or Repair Your Windshield?
A deductible is the amount that you pay to cover damages before the insurance company will begin contributing. Deductibles are one of the customizable factors in most insurance plans. If you're unsure of the deductible you signed up for, it will be listed in your auto policy terms. For example, if your vehicle requires $1,200 worth of repairs and your deductible is $500, you pay $500 out-of-pocket and the insurance carrier pays the remaining $700.
Your insurance agent can help figure out if you would have to pay a deductible, how much the deductible is on your policy and if there are options to reduce any out-of-pocket expenses. Many states offer "Full Glass" coverage, which means that there are no out-of-pocket costs when your windshield needs to be repaired or replaced. Your insurance agent will let you know if you are in a state that qualifies for this benefit. For even more convenience, in most locations the windshield repair or replacement technician comes to you instead of you having to take time to bring your vehicle into a shop. Win-win!
If you do have to pay for windshield damage, in many cases the cost of windshield repair is much less than a full replacement. If the repair cost is $230 and the insurance deductible is $500, there is no benefit to making a claim on your policy since your out-of-pocket cost would be lower than paying your deductible.
Windshield replacement costs depend on the make and model of your car and any customizations that you've had done to the car or windshield. Windshields for certain cars are only available from the dealer, which will typically cost more. Other added expenses for windshield replacement include special tinting required for some digital displays and automatic wipers that are wired through the windshield. If the cost of replacing your windshield is more than the amount of your deductible, your independent insurance agent might recommend you make a claim and pay the deductible.
Find an agent to better understand how much you will have to pay out-of-pocket to cover the cost of a windshield repair or replacement.
How to Get Car Insurance Coverage for Windshield Damage
Windshield damage is easy to overlook, but can lead to a lot of questions once it occurs. For example, is hail covered by auto insurance? Is windshield replacement covered by insurance? Yes, if you have the right policy.
An independent insurance agent can help you find the right coverage for your vehicle, including windshield damage protection. Independent agents are experts in understanding when to use your insurance to repair or replace a damaged windshield. Find an agent to better understand how much you will have to pay out-of-pocket for windshield repair.
How to Know When to Repair vs Replace Your Windshield
Repairing a cracked windshield is often faster and less expensive than replacement. Size, depth, location and type of crack are factors in determining whether your windshield can be repaired or must be replaced. If you're uncertain, it's always best to talk to a windshield repair specialist to determine if a crack can be fixed.
Contact an Agent to Get a Quote for Auto Insurance
Learn more about how Main Street America car insurance can help protect your vehicle and save you from unexpected out-of-pocked costs. Find an agent to answer all your questions and get the coverage that is right for you.