Spring Home Maintenance Checklist
by Main Street America Insurance,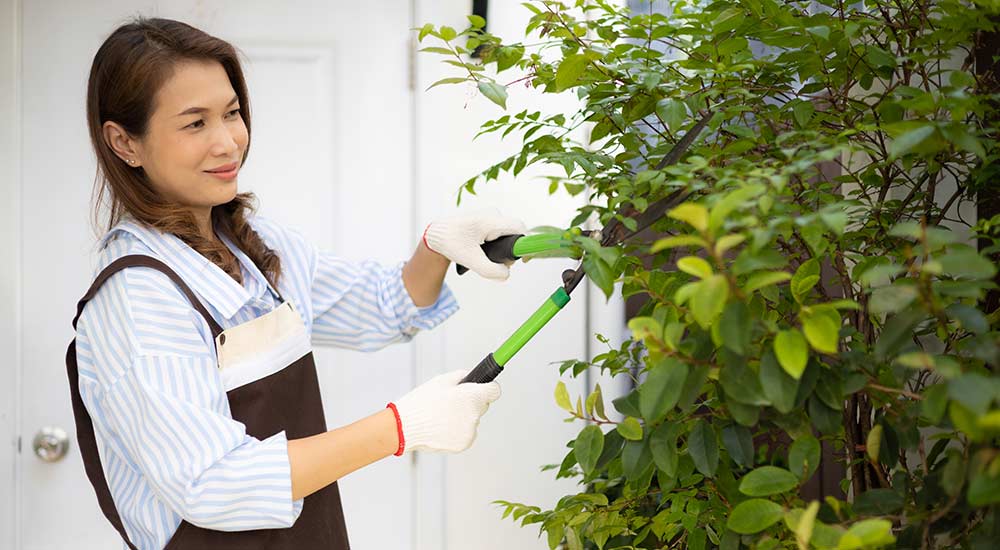 Spring is here, and you know what that means – it's time to break out the cleaning supplies and get to work. But did you know there are other seasonal home maintenance tips that can keep your home running smoothly and protect you from future insurance claims?
Take a look at the home maintenance checklist below to see what you may be missing in your spring cleaning routine. 
Create a Home Inventory
Seasonal cleaning and home maintenance doesn't just mean picking up around the house. An important part of your spring cleaning routine should be updating — or creating — a complete inventory of the items in your home and their financial value.
Having an up-to-date home inventory may not seem like a big deal, but it can help you ensure your home insurance policy is accurate and you have the right amount of coverage. And in the event of an emergency, like a fire or flood, your home inventory will take the guesswork out of filing a claim and getting reimbursed for any losses.
Your home inventory should include:
Item description
Value and purchase date
Make, model and serial number for electronics
A video and/or photos of your possessions, such as a walkthrough of your home
Download a Home Inventory Checklist now to help you get started.
De-clutter Your Home
At least once a year, it's a great idea to take a moment and de-clutter your home. Reorganize, donate or throw away any items you no longer need, and clear your space. Not only will it make you feel good, it will go a long way in improving the safety of your home and minimizing damage in an emergency. Plus, it's less to consider while you're writing out your home inventory!
Make the Most of Spring Cleaning
Deep cleaning your home can feel daunting, and it can be easy to forget about the spots you don't address often. But regular cleaning of the forgotten nooks and crannies in your home, and appliance maintenance not only makes your home tidier, it can help you identify risks and prevent costly problems later.
Mold and Oil
Have you looked behind your stove lately? The most common hazards hiding in your home are untreated mold and oil buildup, which can increase your risk of fire. While you're making your way through your spring cleaning tips, don't forget to clean any hard to reach areas or hotspots like kitchen appliances, window seals and bathroom vents.
HVAC Cleaning
Poorly maintained HVAC systems, furnaces and chimneys not only increase your energy costs, they can substantially increase your risk of a house fire. You should routinely inspect and clean your HVAC equipment, replacing any dirty filters, to ensure proper function and safety. Talk to a professional to ensure the job is done on time and right.
Appliances
Of all the home maintenance tips, perhaps the easiest to forget is appliance maintenance. Like with HVAC systems, appliances that aren't running properly can lead to increased energy costs and increased risk to your home. Prevent problems with flooding, fire risk and more by ensuring your home appliances — like dishwashers and dryers — are cleaned and routinely checked for proper function.  
When you're looking at your appliances, you may also notice areas to improve efficiency and reduce risk. For example, replacing the water lines for your refrigerator's ice maker, washing machine, toilets and sinks with a braided stainless water supply line can also help prevent unexpected water damage.
Conduct a Home Energy Audit
Sounds intense right? It's actually not! Whether you hire a professional or go the DIY route, it only takes a short time to see how energy efficient your home is. One of the best things to do for your home is regularly check weather stripping around windows and doors — not only will this improve your home's energy consumption, but it can help prevent leaks, flooding and mold buildup down the road.
Clear Your Yard
As you begin to tackle your spring landscaping projects, it's important to consider any maintenance that could create problems later. Spring yard clean up should always include trimming trees that hit your roof, cutting back any branches from trees or shrubs that border walkways and removing debris from other high traffic areas. Not only does this improve the appearance of your yard, but it will help prevent overgrowth and tripping hazards that could damage your plants and cause injuries or damage to your property.
Review Your Insurance Policies
When your cleaning and spring landscaping is done, there's one last thing to check off your list — reviewing your home insurance. While these home maintenance tips are important and can help prevent problems, the best way to protect your home and family is to ensure you have the best homeowners insurance policy and flood insurance in place for your unique needs.
Find an independent insurance agent near you to review existing policy coverage, explore new coverage options and ensure you are fully protected when the unexpected happens.