How Much Home Insurance Do I Need?
by Stacy Juelfs,
Regional President,
Main Street America Insurance •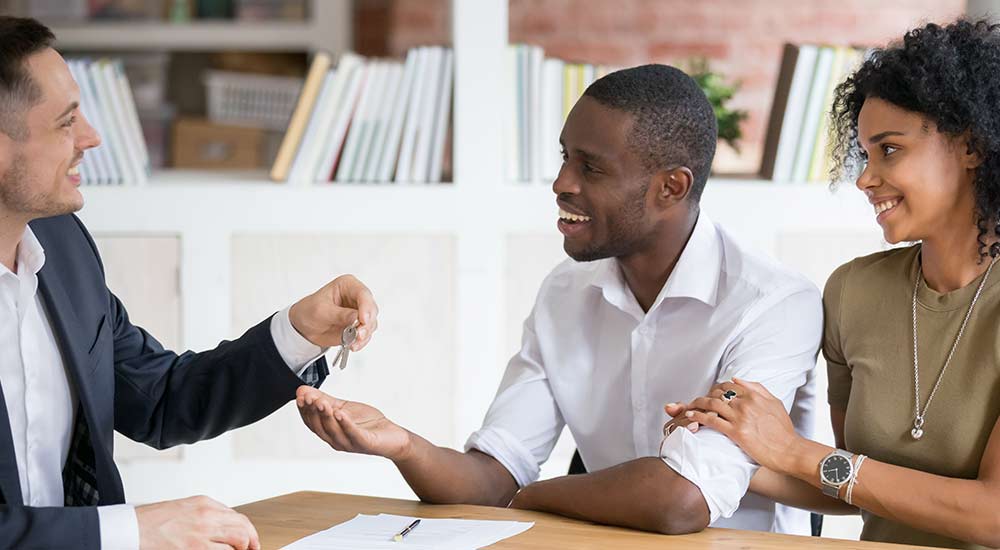 Home insurance is one of the best ways to protect your home and possessions from certain types of risk, including personal liability coverage to protect you if others are injured or suffer property damage at your home. Your home is one of the biggest investments you'll make, and you want to make sure it's protected – but you also don't want to pay for things you don't need long-term.
Though it's not required by law, your mortgage lender can require that you have home insurance coverage in place before you close on your home. However, every home is different and homeowners insurance coverage can vary. So, how much home insurance coverage do you really need and what types of coverage should you invest in? Here's what you need to know.
What Do Standard Homeowners Insurance Policies Cover?
A standard home insurance policy is designed to protect you from the most common risks that can occur on your property. These coverages are grouped into categories including:
Dwelling: This covers the cost of repairs to the home itself, including the exterior and interior features of the house. This also includes any rebuilding costs to your home.
Accessory structure coverage: This covers any storage buildings, guest houses, fences and other structures on the property.
Liability: This helps pay for the cost of legal fees, damages and medical expenses if someone is injured on your property.
Medical expenses coverage: If someone gets hurt on your property, medical expense coverage will help pay for the cost of their treatments up to the limits specified by your policy.
Personal Property: Property insurance covers the personal items in your home including clothing, artwork, food, utensils, appliances and any other items deemed necessary to maintain your quality of life. The amount of coverage provided will vary from policy to policy and some items in your home may be excluded from the standard coverage.
Additional living expense (ALE): If your property gets damaged and you're unable to live in your home while a contractor makes repairs, additional living expense insurance will help pay for lodging expenses. Some insurance companies refer to this coverage as "loss of use" insurance.
How to Determine How Much Home Insurance You Need
Every home is different and that means every home needs a different amount of coverage to ensure your most important asset is fully protected. To determine this amount, you'll want to think about the worst-case scenario: having to completely rebuild your home and replace everything inside.
Though your insurance agent will help you determine how much home insurance protection you will need, there are a few factors that impact what coverage and limits you'll want to have in place. These are:
Construction costs: Your home insurance policy should provide you with enough coverage to fully repair or rebuild your house with similar materials and at current labor rates. Typically, rebuilding your home will cost more than the market value of your home.
The age of your home: Older homes and those that aren't already up to the current building code can pose certain challenges when it comes to construction. If the house has unique features or needs to be rebuilt to meet modern safety standards, it may cost more, thereby impacting the amount of coverage you'll need.
The types of buildings and structures on the property: The more buildings and structures you have on the property, the more you'll have to pay to rebuild completely. For example, if a tree falls on your detached garage, other structures coverage may help pay for rebuilding or repairs.
The cost of the personal items in your home: Home insurance also covers the cost of replacing the items inside your home. The more personal property you have and the more expensive that property is, the more coverage you'll need. You may find that additional coverage or a "valuable items schedule" (a detailed list and description of your most valuable assets) can help provide greater protection for your belongings.
The size and number of rooms in your home: The more rooms and stories you have in your home, the more construction and labor costs can fluctuate. For example, if a fire spreads through a three-story home, that's an entire additional floor of space that needs coverage and repairs compared to a two-story home.
Here are some important steps in calculating your policy needs.
Begin by conducting a full inventory of your personal possessions.
Go room by room and create a list of items you have inside.
If possible, take photos of each room and update them at least once a year or after major purchases.
Try to estimate how much each item is worth and write that value down.
Hold onto receipts for large electronics or expensive appliances for future reference.
Extra coverage may be required for certain items like expensive jewelry, art or electronics.
Evaluate the types of liability risks you face as a homeowner.
Provide your independent insurance agent with this information.
Discuss the best options for you and your home.
What Does Dwelling Insurance Cover?
Dwelling insurance is designed to help cover the costs for repairing or rebuilding your home if it's damaged by certain hazards, including materials, labor and built-ins. An independent insurance agent will know the local area and can help you calculate a fair estimate of replacement costs. It's important to reevaluate your policy from time to time, especially after renovations, to ensure you have the proper coverage in place. Most homeowners insurance policies cover damage or loss caused by events including:
Fire and smoke
Windstorms or lightning
Damage caused by a vehicle
Vandalism and theft
Ice, snow or sleet
Water damage caused by burst pipes
Frozen plumbing, heating or air conditioning
To learn more about preventing damage from ice, snow and frozen pipes, read our tips to winterize your home .
How Much Personal Liability Coverage Do I Need?
Home liability insurance protects you against lawsuits or costs that could occur if someone is injured on your property or if their property is damaged while in your home. Deciding how much coverage you need isn't easy, but your independent agent is here to help.
If, for example, your child loves playing baseball in the front yard, they could accidentally throw a baseball into a neighbor's window. Or, a visitor could slip and fall on your front steps. These types of accidents could require that you pay for the medical bills or damage. This is where personal liability coverage protects you. Your insurance agent will discuss your risk factors with you and help you decide what liability limits are a good investment for you.
What Is Additional Living Expense (ALE) Coverage?
Additional living expense coverage covers living expenses like hotel stays or short-term rentals, meals at restaurants and any other similar costs while you wait for your home to be repaired. Many policies use a percentage of your dwelling coverage to calculate your ALE. The amount of ALE coverage needed varies depending on many factors, such as the size of your family or rental prices in your neighborhood.
For example, if your home is damaged in a wildfire or hurricane, you and your family may need to relocate temporarily while the damages are repaired or your home is rebuilt. The money from your ALE coverage is used to pay living expenses until you can return home. For most people, having 20 percent of the value of your home insurance available as ALE coverage will be enough.
Some policies allow you to use as much as necessary for a set period of time. Others will let you use a set amount of money until your home is fully repaired, regardless of how long the repairs take. Your insurance agent can help walk you through all your options.
Additional Homeowners Insurance Coverages
Standard home insurance is designed to give homeowners protection against common risks, but that doesn't mean it will protect you against every possible situation. That's where added protections come in. Ask your insurance agent about supplemental coverages and endorsements that can further enhance your home insurance coverage.
Flood Insurance
Your normal home insurance policy does protect against water damage caused by things like frozen pipes or severe storms. However, it won't protect you against damage resulting from floods, even if those floods are the result of a severe storm. A supplemental flood insurance policy can give you peace of mind knowing your home and property are protected.
Cyber Protection Insurance
As more people rely on technology and internet-enabled devices in their daily lives, the risk of a cyber attack goes up. Your standard home insurance policy doesn't cover cyberbullying, data ransoming, identity theft or damage to internet-enabled home technology and devices. However, you can add separate cyber protection insurance coverage to your policy to protect against financial loss from cyberattacks, up to the limit of your policy.
Protect Your Home with Main Street America Insurance
The right home insurance policy will help you protect your home and your finances for years to come. Get the best policy for your home and your budget from Main Street America Insurance. Find an agent near you for more information.