Car Insurance Tips
by Beth Dame,
Regional Sales Director,
Main Street America Insurance •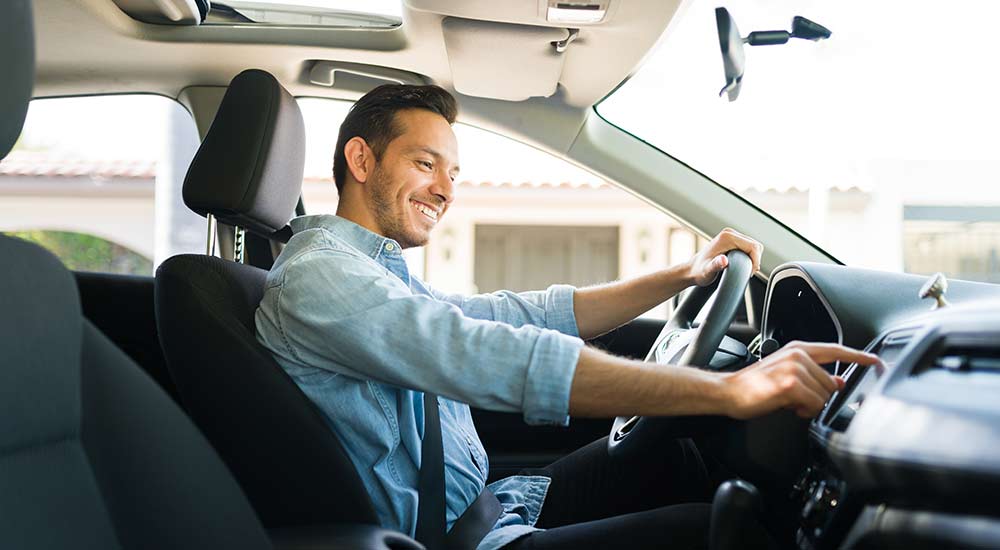 Buying a car can be a stressful and exciting time — between setting budgets, navigating loan options and choosing the right insurance, there's a lot to think about. The car you choose and the insurance coverage you need go hand-in-hand. So, when buying car insurance for a new vehicle, the best thing you can do is arm yourself with all the knowledge you'll need to make the right call.
Here are some tips to help you buy the best policy:
Car Insurance Tips to Know Before You Buy
 
1. Know What Types of Car Insurance You'll Need
The first step to buying an insurance policy is coming up with a plan. Know which types of auto insurance coverage you'll need, whether your current car insurance will be enough to protect your new vehicle and what additional coverages you may need to ensure you're fully protected. 
Here are the most important car insurance protections to consider:
Liability Coverage
This is a base level of insurance coverage that helps cover medical costs, legal bills and more in the event that you cause an accident where another person is injured or their property is damaged. Some states require a minimum liability coverage limit. When setting up your policy, you'll want to be sure you have enough coverage in place to meet those requirements and pay for the most common losses you could see.
For example — if vehicles in your area average around $30,000 in value, you'll need at least $30,000 in liability coverage to ensure you're fully protected in the event of an accident where the other driver's vehicle is totaled.
Personal Injury Protection
Unlike liability coverage, personal injury protects you in the event of an accident. Regardless of who is at fault, your personal injury coverage will pay for your medical expenses if you're injured in an accident. 
Some states have minimum coverage amounts (usually around $10,000), but ultimately the level of coverage you choose depends on how protected you want to be. Ideally, you'll want to make sure you have enough coverage in place to protect you from paying out of pocket if you need surgery, hospitalization or need to take time off from work to heal.
Personal injury insurance may not be available in every state or may be written under a different name.  An independent insurance agent can help make sure this coverage is available in your state and let you know what limits will protect you best.
Comprehensive and Collision
Comprehensive and collision are added car insurance coverages that protect from things like hail, theft and physical damage to your vehicle in the event of an accident. In some cases, like when you finance a vehicle, you may be required to have comprehensive and collision coverage when buying an auto insurance policy.
2. Do Your Research for the Right Car Insurance
One of the most important tips for building an insurance policy is to do your research. Whether you're an old pro or a first time car insurance buyer, there's a lot to consider, including:
Matching Your Coverage
When buying a new car, it's important to ensure your coverage matches the car and to consider how the car you choose could affect your insurance rates or premiums. If you're trading an old vehicle in for a newer, more expensive model, you'll want to consider raising your coverage limits to ensure you're fully protected. If you're financing your vehicle, make sure you have all the coverages in place that are required by your lender and your local government.
For example – if you have state minimum coverage and no comprehensive and collision insurance, that might be enough to protect you in old, lower-value car that you own outright. But if you trade that car in for a new, $25,000 vehicle that you'll need to finance, that policy won't be enough. You'll need to up your coverage limits to match the value of your new car and add comprehensive and collision insurance, if it's required by your state or lender.
Choosing the Right Car
If you're on the fence about which car you want to get, another great thing to factor into your decision is the size of the vehicle and any safety features it has. Did you know in some cases smaller cars can be more expensive to insure? That's because you are statistically more likely to experience injury in an accident than if you were driving a larger truck or SUV. That said, physical damage is often less expensive for smaller cars.
Another great way to reduce your premium is to buy a car with an anti-theft device, blind spot alerts, and other safety features that reduce your risk.
Comparing Rates and Premiums
Whether you search car insurance quotes online or visit your local independent insurance agent, make sure you consider all your options. See which company offers the best coverages at the best price so you can ensure you're fully protected without breaking the bank. 
If you're still considering a few different cars, it pays to talk to your insurance agent before you purchase. They can give you quotes on the insurance premiums for each vehicle so you can have a full picture of how your expenses may change.
In addition to premiums, another important factor in determining the best insurance for you is how well the company handles claims. A benefit of working with an independent agent is that they can provide feedback on a company's claims handling practices, so you know you're working with someone who will settle claims quickly and fairly.
Finding Discounts
As part of your research, look into any discounts that might be available to you. Usually, you can save money upfront with things like multi-policy or multi-driver discounts, paying the policy premium in full or signing up for auto-pay. As you continue your relationship with the company, you may get added discounts for loyalty or safe driving. Ask your insurance agent for details about any savings offers available to you.
You should also consider signing up for a defensive driving class. People usually think of defensive driving courses as something you do after you've been given a ticket, but it can actually be a great way to get proactive about reducing your car insurance rates. Nothing saves you money like showing the insurance company you're a safe driver.
3. Don't Forget the Details
So you've done your research and you're ready to buy — here are some tips for getting car insurance when you're ready to make the leap:
Do it Yourself
When buying a car, the dealership will handle a lot of paperwork on your behalf, but don't assume they'll take care of insurance too. Whether you set up your insurance before you buy the car or after, you'll need to handle it yourself. If you're updating an existing policy, it's as simple as updating your policy online or reaching out to your agent to handle the details within the timeframe outlined by your insurance company.
If it's a new policy, you'll need to set everything up before you leave the dealership. Dealers require proof of insurance before you can drive off the lot.
Consider Gap Insurance
Gap insurance is an additional car insurance policy that you'll purchase either from the dealer or from your lender. Gap insurance guarantees that, in the event your car is totaled, your loan will be paid off. With how quickly cars depreciate in value, and how affordable gap coverage is, it's a great way to protect yourself from an unnecessary financial loss.
Set Your Deductible
If the price tag is running a little high on the insurance coverage you need, another great way to lower your payment is to consider a higher deductible. The deductible is the amount you'll be asked to pay in the event that you file a claim that's your fault or responsibility. For example, if you cause an accident and have a $500 deductible to cover physical damage, you'll need to pay the body shop that $500 and your insurance company will cover the rest.
Having a higher deductible means more expenses when an accident occurs, but it could save you money on your policy premium. Talk to your independent insurance agent to decide what coverage and which deductible is right for you.
Come Prepared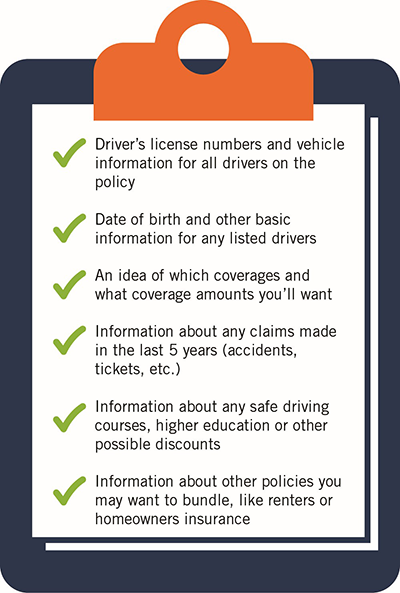 Before reaching out for car insurance quotes, make sure you have the right information on hand. This will help the process go smoothly and ensure your quote is as accurate as possible. Be ready with the following:
Driver's license numbers and vehicle information for all drivers on the policy
Date of birth and other basic information for any listed drivers
An idea of which coverages and what coverage amounts you'll want
Information about any claims made in the last 5 years (accidents, tickets, etc.)
Information about any safe driving courses, higher education or other possible discounts
Information about other policies you may want to bundle, like renters or homeowners insurance
Contact a Main Street America independent agent to get a car insurance quote today.