Professional Liability Insurance for Healthcare Providers
by Main Street America Insurance,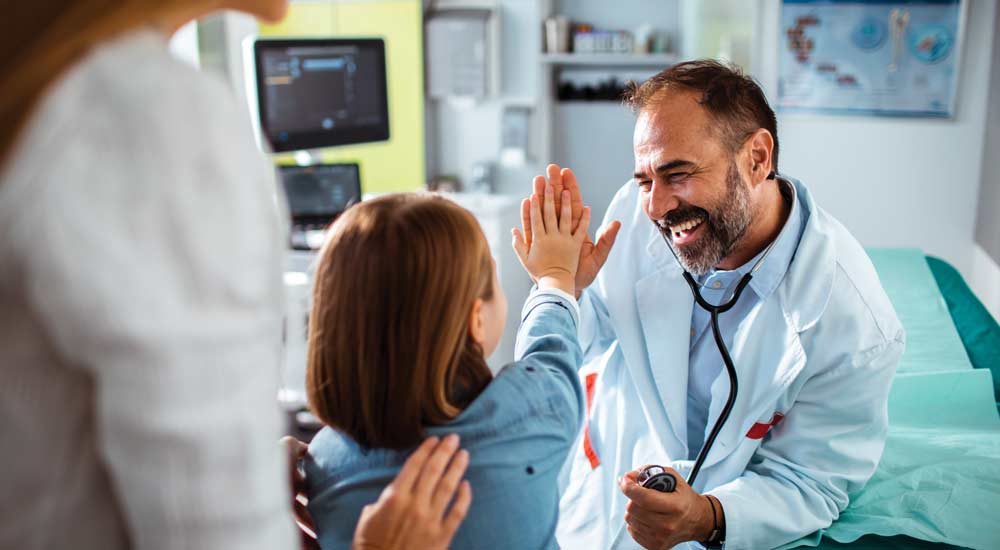 No matter your education level or how much experience you have in your field, mistakes happen. And when those mistakes affect your patient, it opens you and your practice up to costly lawsuits. Professional liability insurance coverage, also called errors and omissions insurance, is a commercial policy designed to protect your business from these risks.
It is invaluable coverage for doctors and other healthcare providers — giving you peace of mind while you help others heal.
What Does Professional Liability Insurance Cover?
Most often, errors and omissions policies protect medical professionals from claims of malpractice or bodily injury that occur during treatment. These claims can lead to large payouts for the patient and thousands in unexpected legal fees for the provider. Both can be covered by your policy.
Professional liability coverage can also protect against:
Libel or slander brought against your medical practice by an angry patient or former employee
Misrepresentation of your business or services, like saying you offer surgeries when you only provide basic care
Negligence, like claims that nurses in your practice failed to properly care for a patient or lost patient scans
Breach of contract claims from third party vendors or clients your practice does business with
Professional misconduct, like accusations of harassment, bullying or workplace discrimination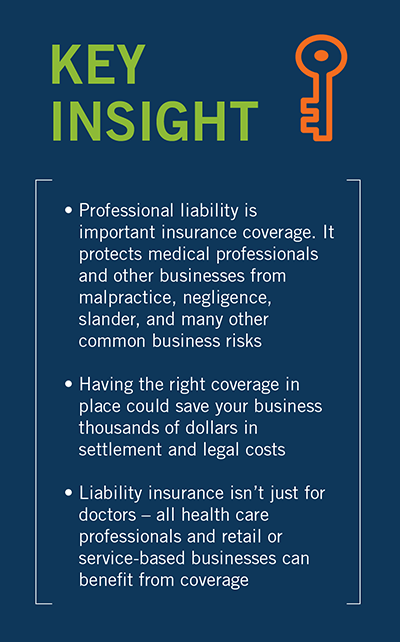 Whether you work in a large hospital or run your own practice, medical professional liability insurance is powerful protection to have.
Example: Medical Malpractice
You work as a dentist and perform a routine root canal on a patient. During the procedure, something goes wrong and your patient ends up with a severe bone infection. The patient decides to bring a malpractice claim against you to cover the costs of the resulting surgery and infection control.
Professional liability insurance will pay to defend you in court and provide protection for covered damages the patient is awarded.
Example: Bad Advice
You're a physical therapist and a patient comes in for ongoing shoulder pain. You and your team come up with a care plan that includes different exercises to improve mobility and strength. Unfortunately, one of your recommendations made the injury worse, costing the patient money and leading her to leave terrible reviews online.
Your insurance will help pay court costs and help protect your business from libel if the reviews harm your reputation.
Who Needs Professional Liability Insurance?
Because professional liability insurance covers many common business risks, it is great coverage for most business owners to have.
In health care, it's even more important to ensure you're protected because your risk is higher. Every time your treat a patient, give advice, or advertise your business, your risk of a lawsuit grows. But liability coverage isn't just for doctors. In fact, nearly every health care provider can benefit from coverage, including:
Chiropractors
Physical therapists
Psychologists
Nurses
Radiologists
Optometrists
Podiatrists
Surgeons
Gastroenterologists, and more.
People working in other industries can benefit from errors and omissions coverage, too. Office, retail and service businesses should all consider adding E&O insurance to their commercial insurance portfolio.
Why Do I Need Errors and Omissions Insurance?
In some cases, you may be required to have a professional liability policy. However, even when it's not required, it's important coverage to have. Even the best or most well-meaning health care worker can make mistakes.
Every day, your team faces risks that could put your practice in danger. It could be a therapist giving advice that causes harm in a patient's life. Or a massage therapist using too much pressure and damaging client's nerves. Whatever the situation, having the right insurance coverage in place can protect you and your team unexpected legal bills.
How Much Does Errors and Omissions Insurance Cost?
The cost of an errors and omissions policy varies based on things like your risk, coverage limits, business size and more. However, BizInsure estimates that small business owners pay an average of $600 in annual premiums.
Regardless of your policy cost, it's well worth having coverage in place to protect yourself, your business and your employees.
What Do You Need to Get a Quote?
An independent insurance agent can evaluate your current insurance coverage and help you find the right liability policy for your practice. In most cases, it's as simple as adding the coverage to your existing Business Owners Policy. This can be done quickly and easily with the right agent.
When reaching out for a quote, here are a few important items to have on hand:
Information on previous E&O coverage or claims. This helps the agent can get a better idea of your current coverage level and risk
Practice details like your location, what you do, the number of employees you have, and how many years you've been in business
Copies of any contracts your business has with vendors or clients
Details of any processes or procedures your team is expected to follow while doing business
Information on your training practices for new staff members
When you're ready to protect your business, talk to an independent agent about professional liability insurance.