Safety & Security Tips for Renters
by Dan Gaynor,
Regional President,
Main Street America Insurance •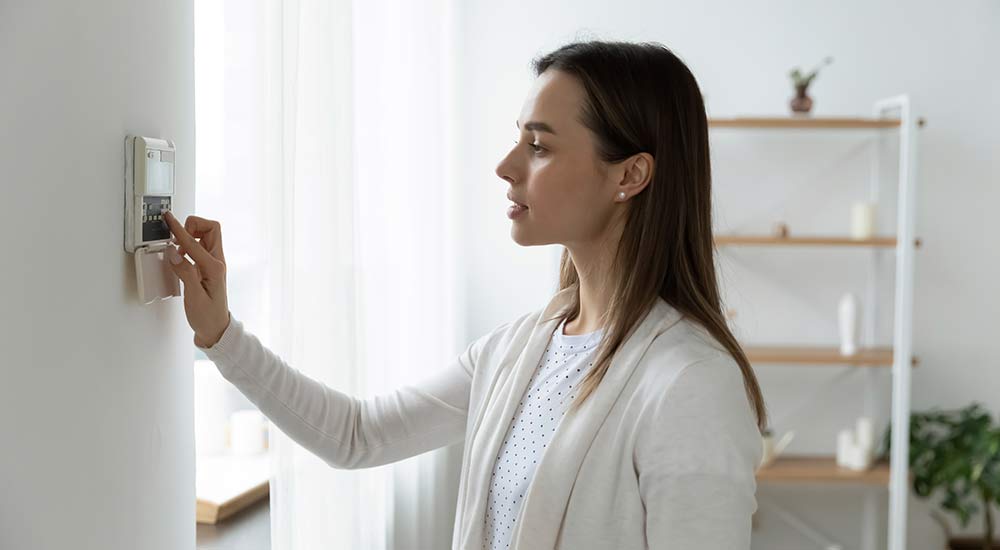 Are you renting a home or apartment? Keep yourself and your belongings safe with these simple safety tips for renters.
How to Protect Your Home or Apartment Before Move-In
Security for your rental unit is important. Before you sign a lease and move in, look at the property with a critical eye for safety and security, including:
1. Check for Emergency Exits and Fire Safety
Fires can spread quickly and your new rental should have an easily accessible fire escape or emergency exit. Be sure to check for exterior escape routes like fire doors or escape ladders. If you don't see those on your walkthrough, ask for information about emergency exits.
Keep in mind that for a room to be considered a bedroom, it needs to have at least two means of escape in an emergency, meaning doors, windows or sliding glass doors. Renters should also check for working smoke and carbon monoxide detectors.
2. Check Lighting in Outdoor Areas and Common Spaces
Entrances, walkways and parking lots should be well lit. This helps reduce the risk of trips and falls and adds an added level of protection against break ins and other crime. Before you sign your lease, check the property for adequate lighting, especially if you're living alone or tend to come home late at night when your neighbors and family are likely in bed.
3. Get to Know the Neighborhood
After you tour the property and before you sign the lease, check out the neighborhood. Drive by at night, get a feel for the area and pay attention to any police presence or suspicious activity that may make you feel unsafe. You can also look up crime reports to get an idea of what crime, and how much, occurs in the neighborhood.
4. Purchase Renters Insurance
One of the best things you can do to protect your belongings is to invest in renters insurance before you move into your new home. The policy will help you pay for the cost of repairs should you be responsible for damage to the unit, and can provide replacement for any items damaged as a result of covered incidents, like fire or theft. Despite the low monthly cost of renters insurance, a policy can save you thousands of dollars in the event you need to file a claim.
Keep in mind that some landlords may require proof of renters insurance when you sign the lease. Contact your independent insurance agent and let them know that you're moving to a new rental. They'll be able to help you find the right coverage to match your budget and needs.
How to Secure Your Home or Apartment After Move-In
Once you move into your new rental home, you may want to improve the safety inside and outside of the building.
1. Check Window and Door Locks
Begin protecting your property by inspecting your windows. Make sure they seal against the elements and check the locks on the frames. The locks should move smoothly and secure the window when closed. If the locks are difficult to use or don't latch properly, contact your landlord as soon as possible.
You'll also need to inspect your doors and ensure any locks work properly. Ideally, the door should have a deadbolt lock and a doorknob lock for added security. If the locks don't work or you're worried about previous tenants having spare keys, talk to your landlord about changing the locks.
2. Take Steps to Prevent Water Damage
Protecting your home from water damage is an absolute must, even in a rental property. Protect valuables and important documents by storing them in waterproof containers or, for items that won't fit, on shelves high off the ground.
Even if your home is not listed as being in a FEMA flood zone, flooding is possible. Standard renters or home insurance policies won't cover damage caused by flooding. That's why we recommend adding flood insurance to your rental policies for extra peace of mind. Talk to your independent insurance agent to discuss your options and determine whether flood insurance is in your best interest.
3. Hide Valuables in a Safe
More than 1 million burglaries happen across the United States each year. Renters insurance will help protect you from financial loss in the event your belongings are stolen or destroyed, but the best way to protect yourself is to be proactive and store any important documents, jewelry or cash in a fireproof and waterproof safe.
4. Avoid Storing Valuables on Your Balcony
Your balcony may seem like a secure place, but it shouldn't be used as your go-to storage area. Storing valuables on your balcony could make you a target for thieves, especially if you live on a lower floor or it's accessible to a neighboring unit.
How to Protect Your Home or Apartment Before Going Away
Before leaving for an extended period of time, you'll want to be proactive and find ways to protect your home from theft and break-ins while you're away.
1. Draw the Curtains and Shades
Protect your home and belongings from being a tempting target for thieves by closing the curtains and shades to cover your windows and keep prying eyes away from any valuables inside.
2. Meet Your Neighbors
One of the best things you can do to protect your home and belongings is to get to know your neighbors. Your community can help each other by keeping an eye on your homes during trips or extended time away.
3. Consider installing a security system
New, smart security systems are available to protect your possessions while you're not at home, and they can be your best defense against burglary. Many options are available for easy, damage-free installation that you can take with you should you move again. If you have a security system, be sure to let your independent insurance agent know – you may be eligible for a discount on your renters insurance.
Choose Main Street America Insurance for Renters Insurance
Learn more about renters insurance from Main Street America today.