How to Save Money on Utilities
by Kristin Schoenbach,
Regional Sales Director,
Main Street America Insurance •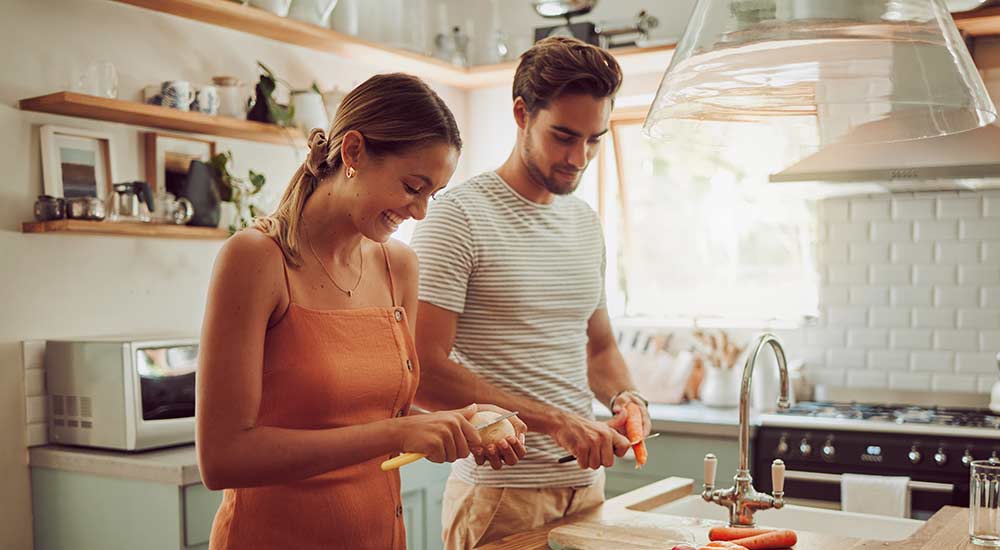 These days, families across the United States are feeling the pinch of rising costs and tighter budgets. In fact, Energy Information Administration data shows electricity prices increased approximately 11% from 2021 to 2022.
According to Forbes, American families spend an average of $429 each month on utility services. This includes a number of important services like:
Electricity
Water
Sewer
Internet
Gas
Trash
Phone and cable
Extreme weather, the number of people in your home and many other factors can affect the price of your utility bills. Between out-of-town guests and weather-related increases, summer and winter months often lead to the highest bills.
Let's take a closer look at all the factors that drive your utility prices.
Factors that Impact Your Utility Bills
Your Home's Age and Location
Things like your home's age and where you live can have a surprising impact on your utility bills.
Older homes may be insulated differently, making them harder to heat and cool. If you live in an older home, this could mean higher utility bills for your family. Similarly, living in an area that has harsh winters or hot summers means your bill is likely to go up seasonally.
Your Home Size
Smaller homes are cheaper to heat and cool. And with less space and fewer people in the home, you're likely to use less overall. Less electricity, less water, and less need for things like high-speed internet or multiple routers to boost your signal strength.
The Number of People in the Home
More people in your home means more people taking showers, cooking meals, playing video games and driving up the temperature inside. Simply put, more people equals more expense for all of your utilities.
Increased Usage
Bad weather, working from home and many other things can keep your family home more than usual. But more time at home means more energy and water consumption, leading to increased utility costs. Fortunately, there are just as many things you can do to boost your energy savings!
Rising Prices
These days, rising prices and the economy are increasing utility costs everywhere. As the cost of natural gas, materials, labor and other items go up, so will your utility bills.
Ways to Save on Utility Bills
Next, we'll cover a few tips for how to save money on utilities. There are several simple ways to lower your electric bill, save water and lower your monthly expenses, including:
Find and Fix Leaks
Whether it's a steady drip from your shower or a drafty window, the best thing you can do for your home is find and repair leaks. The faster you do, the less energy and water you'll waste and the lower your expenses will be.
Reduce Your Usage
Small things can make a big difference to save on electricity and lower your utility bill. Try to avoid running small loads in the washing machine or dishwasher, take shorter showers and shut the burner off a couple minutes early to help conserve resources.
Keep up with Routine Maintenance
Replace your air filters, clean out your ducts, keep appliances clean and more. This will help ensure your home's systems are running properly and you aren't wasting water or electricity while you go about daily life.
Upgrade, Upgrade, Upgrade
We know new appliances can be pricey, but when you can afford to replace them it's well worth the investment. When it's time to replace your appliances, be sure to swap them for energy efficient and Energy Star label models.
Compare Prices Where You Can
In many places around the United States, consumers don't have the luxury of choosing their gas, energy or water suppliers. However, most Americans do have the option to choose who they use for phone, internet and other services. Do your research and choose the company that provides the most bang for your buck.
Unplug and Turn off Devices
This one may seem obvious, but it's easy to forget. Be sure to unplug and turn off devices like your coffee maker, chargers and other items when they aren't in use. Doing so will prevent phantom energy use and help lower your monthly utility bills.
Swap Your AC for Ceiling Fans
Setting your thermostat to a more energy efficient temperature is a great way to save. Many people recommend 68 in the winter and 78 in the summer. Instead of lowering your AC, turn on ceiling fans and let them do the work of circulating comfortable air.
Turn Down the Heat on Your Water Tank
This is another easy one to forget, but it's helpful for both safety and efficiency. Take a moment to reduce the heat on your water heater to conserve energy and protect your family from potentially scalding water in the shower.
Turn Down the Lights, Turn Up the Savings
Reducing your lighting costs is easier than you think. Swap the bulbs around your home for energy efficient LED bulbs and invest in dimmers or timers that can help you reduce your energy usage. Maximize your energy savings by shutting off lights when you leave the room.
Invest in Solar Energy
This is another upgrade that could make a world of difference for your family. While the initial investment for solar panels can be pricey, it can be well worth it when you start saving on your utility bills. Schedule a consultation with a local solar company to see if it's the right choice for your family.
REMEMBER: If you make upgrades that change the value of your home (like adding solar energy), always report those upgrades to your homeowners insurance company to protect your investment with the proper insurance coverage.
View our resource library for other homeowner tips from Main Street America Insurance.