Does Business Insurance Cover Spoiled Food?
by Jaime Wagoner ,
Regional Sales Director,
Main Street America Insurance •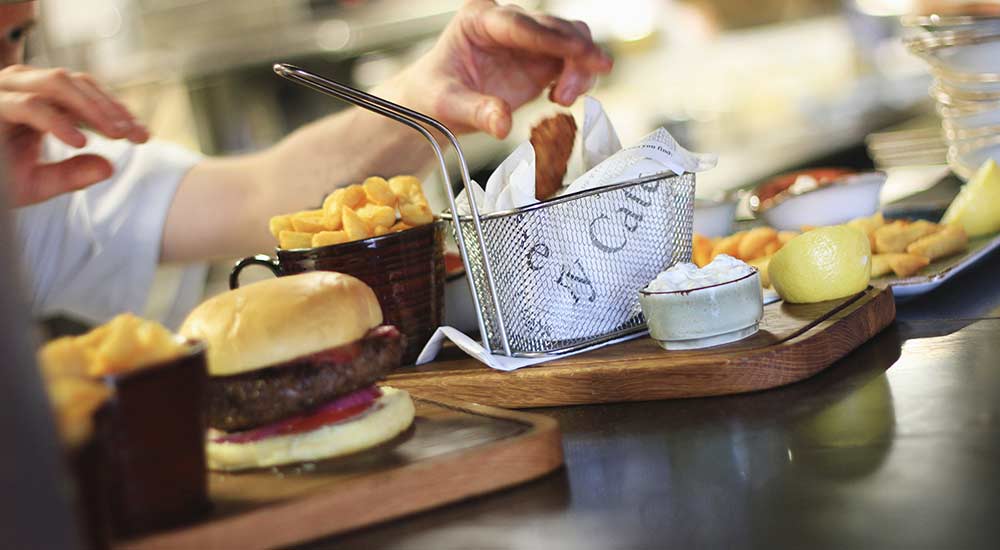 A business owners insurance policy is vital coverage for any small business owner to have. It can protect you, your business and your staff in the event of unexpected losses like property damage, injuries and even lawsuits.
According to data from the National Institutes of Health, a single incident of food-borne illness can cost restaurants upwards of $2 million in damages, legal fees and more. Fortunately, having food contamination insurance coverage can protect your business from devastating out of pocket costs.
What is Food Contamination Coverage?
As you can probably guess, food contamination coverage is a type of business coverage that helps restaurants and other food-based businesses:
Replace spoiled and contaminated food
Pay for required equipment cleaning
Recover lost income from business closure, and more
This includes perishable beverages, meat, dairy, produce and any other item that needs to be properly stored and cooked to maintain food safety. Because food that isn't properly stored can lead to food-borne illness, it's important that you throw any potentially spoiled food away.
Is Food Spoilage Coverage Included in my Policy?
Yes and no. Food spoilage coverage is not automatically included in a standard business owners policy. However, it is a simple add-on that you can have written into your business insurance policy for a small added cost.
An independent insurance agent can help you review your current policies and decide if food spoilage insurance is right for your business.
Common Causes of Food Contamination
Most often, covered losses from food spoilage come from power outages, equipment failure, and mishandling of perishable items.
Power Outages
Whether a storm knocks out power lines or an incident beyond your control damages your electrical wiring, a prolonged power outage can mean bad news for your business. If your food inventory is left too long without electricity or a backup generator, it can leave you vulnerable to food spoilage and contamination.
When this happens, the best thing you can do is operate with the assumption that your food cannot be salvaged. Getting reimbursement for food loss in power outages is easier than paying to manage an outbreak of food borne illness if you serve bad items.
Equipment Breakdown
Imagine the feeling of opening your business one morning to find that your walk-in freezer broke down overnight and all your food inventory is spoiled. It can happen to any food business. Fortunately, with the right coverage your insurance will pay to help you replace any lost inventory and get back to business.
Mishandling or Improper Storage
In some cases, food can be delivered to your restaurant contaminated with bacteria like E. coli or salmonella. Unless a recall is issued in time, you could accidentally cook and serve the spoiled food to customers, resulting in an outbreak of food-borne illness.
When this happens, your insurance policy will help pay to replace the food, clean your equipment, and protect your business from medical and legal expenses.
Filing a Food Spoilage Insurance Claim
Filing an insurance claim for food spoilage is simple! Just work with your agent to report the loss, and be ready to provide any necessary information like:
How the loss happened
How much food was lost
Purchase information for the spoiled items
Service policies on any affected equipment and dates they were last serviced
Keep in mind that for equipment coverage, insurance companies may require that you have a service policy in place and keep a regular maintenance schedule to ensure the policy will pay out.
Talk to an independent agent to learn more about Main Street America Insurance's business insurance coverage.