Main Street America Earns Silver Distinction for Modern Capabilities
Main Street America has received the "Silver" distinction as part of IVANS® Digital Insurer recognition program. IVANS recognizes insurers committed to supporting independent agents' needs for digital connectivity. Becoming recognized demonstrates the ability to leverage modern technologies to support the growth of agency partners.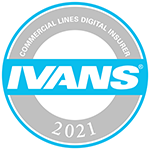 In order to qualify for the program, insurers must provide connectivity and automated information exchange with agency partners across the lifecycle of a policy — from marketing and quoting to servicing and renewals.
IVANS is the insurance industry's exchange connecting insurers, MGAs, agencies and the insured. IVANS cloud-based software automates the distribution and servicing of insurance products. For more than 35 years, IVANS innovation and expertise has connected 33,000 independent insurance agencies and 430 insurer and MGA partners to enable millions of people to safeguard and protect what matters most in people's lives.
With a keen focus on transforming independent agent and consumer interactions, Main Street America is committed to innovations and enhancements through streamlined, intuitive digital platforms. Ongoing investment in automation, user experience and other digital enhancements are part of Main Street America's commitment to serving its customers better than anyone else.
 
About Main Street America Insurance
Founded in 1923, Main Street America Insurance offers a wide range of commercial and personal insurance, as well as fidelity and surety bond products, to individuals, families and businesses throughout the United States. The company writes more than $1.1 billion in annual premium exclusively through independent insurance agents. Main Street America carries an "A" (Excellent) Financial Strength Rating, with a Stable Outlook, and "a+" Issuer Credit Rating from A.M. Best. In 2018, Main Street America merged with American Family Insurance, the nation's 13th-largest property/casualty insurance group, becoming the group's channel to distribute products through independent agents. Visit us at msainsurance.com and on Facebook, Twitter and LinkedIn.