Why You Should Hire a Licensed Contractor for Home Services
by Daniel Gaynor,
Regional President,
Main Street America Insurance •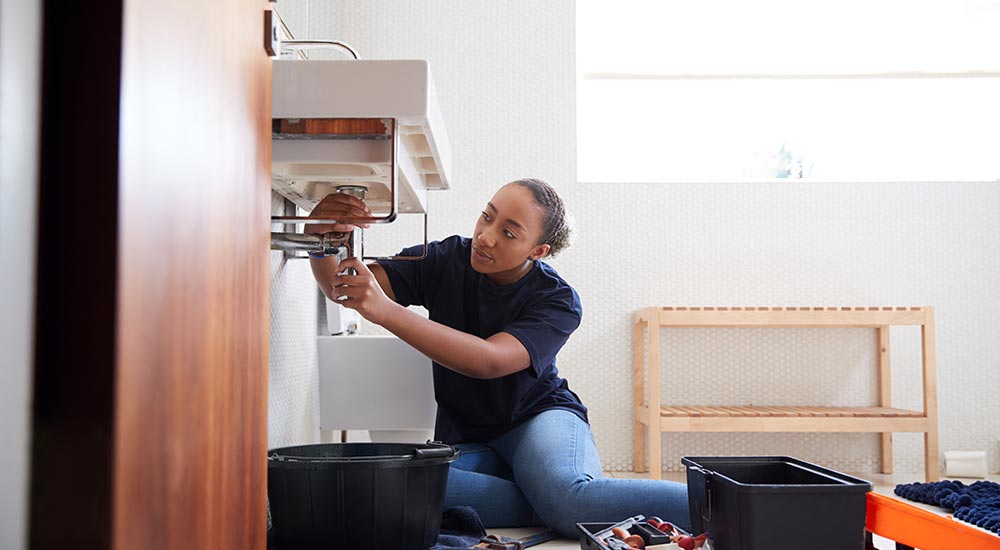 If you need to get some repairs or improvements done on your home, it may be tempting to do them yourself or to use an unlicensed handyman to save money.
But with certain upgrades, like structural or property changes, electrical improvements or plumbing projects, it is important that you hire a licensed and bonded contractor. You'll be sure that the work is done safely and properly, and a licensed contractor's experience can help smooth the way if other issues are discovered during the course of the project. In addition, hiring skilled tradespeople like painters, landscapers and carpenters mean your renovation project will be completed with unmatched expertise.
Before you start any home improvement project, check your state and municipality's requirements. You may be surprised to find that you are required to hire a licensed contractor.
What Is a Licensed Contractor?
If a contractor is licensed, it demonstrates that they have met certain industry standards and qualifications to acquire the license. They pass exams, meet and maintain specific standards when working a contract in order to uphold their license. Licensure also means they know and adhere to local laws and building codes.
Depending on the state and their requirements, licensed contractors may also be required to carry liability and workers' compensation insurance. This is an important qualifier because, without it, you as the homeowner are liable to cover costs for repairs, injury, or property damage caused by the contractor or the work done by the contractor. You can verify a contractor's insurance by asking for proof of insurance, such as an insurance certificate.
Licensure is available for almost every home services contractor, from general contractors, plumbers and electricians to artisan tradespeople like painters, landscapers and carpenters.
What Can a Licensed & Bonded Contractor Do?
When you hire a licensed and bonded contractor, you have peace of mind knowing that your contractor will:
Have the necessary skill and equipment to get the job done.
Have the insurance coverage needed to protect you from liability.
Be accountable to you and their professional licensing organization to uphold high professional standards.
Understand how to manage permitting and project inspections.
Comply with local codes that ensure your project is completed properly and safely.
Be bonded, which financially protects you if the work isn't completed properly or is executed poorly.
What Is the Purpose of a Contractor's Bond?
Hiring a bonded, licensed contractor means the work your contractor will do for you is covered by a special type of insurance. This insurance is a financial guarantee that the work will be completed correctly. It guarantees that the contractor's financial obligations will be met – like paying for supplies or subcontractors and covering damage caused by people working on your property. If the contractor does not fulfill the terms of their contracted work, the insurance company may find a new contractor to perform the work or may compensate you up to the bonded amount.
When Is a Contractor's License Required?
Depending on your state and municipality's requirements, you may be required to hire a licensed tradesperson for your home renovation project. Requirements are organized around:
Project cost where labor and materials exceed a specific amount.
Type of skills required for the project, such as plumbing or electrical work.
The number of different trades required to complete the project.
Requirements vary by location. Always check your state and municipality website for licensure requirements before you start your project. As a homeowner, it is your responsibility to ensure any renovation project is carried out lawfully.
In addition, if you don't hire a licensed contractor and your state or municipality requires that you do, you may face legal trouble.
The number of trades that states or municipalities may require to be licensed might surprise you. These can include contractors for:
Drywall
Electrical Work
Fencing
Flooring
Insulation
Landscaping
Masonry
Painting
Plumbing
Roofing
Solar Installation
Swimming Pools
Water Conditioning

Is It Worth It to Hire a Licensed & Bonded Contractor?
A licensed contractor, and the specialized skills they bring, can make an essential difference in the quality of your completed renovation. Plus, they can save you time and ensure the work complies with important safety and regulatory requirements. Keep in mind that any time you hire an unlicensed contractor you increase your risk. That is particularly true in situations when:
Your state or municipality requires you to hire a licensed contractor.
You have no recourse when work is left incomplete or done wrong.
An unlicensed contractor's work voids your homeowners insurance coverage.
You are liable to pay for their injury on the job or repairs for property damage caused by their negligence.
Their inexperience causes structural damage or puts your home's integrity at risk.
The future sale of your home is impacted because work permits were not applied for and inspections were not done.
Choose Main Street America Insurance to Protect Against Injury and Property Damage
Contractors can get peace of mind when they choose Main Street America for commercial bonds and contractors' insurance coverage. See how our customized solutions protect contractors, subcontractors and independent tradespeople from unique risks.